A V-Scan helps improve your likelihood of ageing without chronic illness by enabling us to screen your internal organ systems.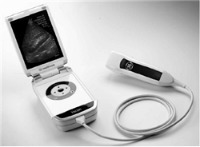 We can check your internal organs for heart failure, leaking heart valves and aneurysms (dilatation) of your aorta, as well as checking your abdominal organs for signs of cancer and other diseases before they show up in medical examinations or blood tests.
V-Scan provides an internal look
V-Scan is an exciting new technology in health assessment that enables you to know, not just hope, that you are healthy inside and out.
Executive Medicine is proud to be the first in Australia to offer this service. Watch the video of Dr Cummins demonstrating how the V-Scan works.
Identify warning signs before a disease develops
A portable, hand-held ultrasound scanner, V-Scan allows us to screen your internal organ systems to check for warning signs of cancer, heart attack and stroke before they show up in a blood test or during a medical examination.
When your appointment includes a V-Scan it enables us to:
examine your heart's structure and function to ensure your heart muscle, lining and valves are functioning correctly
check if there is evidence of valve leakage or blood pressure damage to the heart, providing additional information over and above an examination and ECG testing
examine internal organs within the abdominal cavity such as the liver, kidneys, spleen, aorta and pelvic area to identify any abnormalities
This gives additional reassurance beyond blood tests and medical examinations that there are no growths or masses at an early stage, nor dilatation of your major vessels. NOTE: Often kidney cancer is found while performing an ultrasound for other reasons.
Any abnormalities identified during the scan will obviously require appropriate follow up, including a formal diagnostic scan.
V-Scan is an optional extra which can be added to any of our assessment packages.
Would you like more information?
Call Executive Medicine at 9290 3259